As operators and maintainers, you want to make sure your graphics are lasting as long as possible. Here at Seifert, we don't cut corners. Each step of the installation process, from proper training to the final quality inspection, is equally important to us. Located in Plattsburgh, New York, our state-of-the-art transit graphic installation headquarters is not only the site of our training facility but home to one of our graphic installation team. Knowing our team is another important step in the installation process. So, we sat down with our lead trainer, Josh Finnegan. We asked questions on what it's like to be an installer, best and worst parts of the job and most importantly, how he gets this stuff to stick and stay stuck!
Below is that interview. So, roll out your blankets and read the wonderful conversation we had with Josh!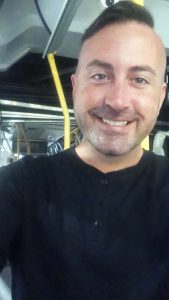 Q: Hello Josh. Can you introduce yourself?
A: My name is Josh. I am the trainer here at the Seifert Transit Graphics Installation Headquarters in Plattsburgh, New York.
 Q: So, have you always been interested in installing?
A: I actually knew nothing about vinyl or installation previous to this job. So I learned a lot coming in and it was a really cool process. It was interesting to learn about and definitely a different career path I didn't see myself taking, but I'm really glad that I did.
Q So now that you've learned, how would you explain your style of installation?
A: I tend to focus more on the finished product and quality over anything else rather than speed. Focusing more on the end product so it is something that we're proud to put our name on. We can put our name on any install without any kind of hesitation or problem.
"Focusing more on the end product so it is something that we're proud to put our name on."
Q: Who inspires you when it comes to installation?
A: My inspiration for installation, well, she unfortunately is not here anymore, but it was the previous trainer. Her name was Lydia and she was pretty awesome. Best installer I've ever seen. 
Q: Explain when an installation went wrong and how you handled that.
A: When installations go wrong, I always like try to prepare myself to expect the unexpected. Every installation is different. Every scenario is different. You could do something one way 100 times and then as soon as you do it differently, you're going to get a different, completely different outcome. Trying to just keep yourself on your toes, focus on what are you doing and focus on how the vinyl's reacting to what you're doing, how you're working with it, stuff like that.
Q: How do you describe reading the vinyl, is that something that you always do during installs?
A: Yeah! Whether I'm heating and stretching or just laying it down, you know, temperature changes or what kind of environment we're in, you know, everything kind of factors into how that vinyl is going to lay down to the surface.
Q: Is that something that you develop during your training or just feel?
A: It is something I try to teach during training but doesn't really kick in until you're out there getting hands on experience with it in all kinds of different scenarios.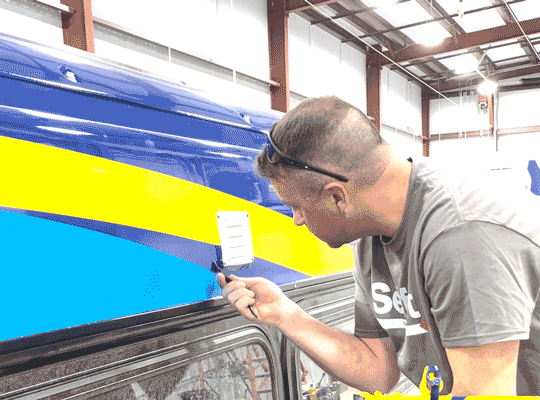 Q: Okay, what is your favorite part of a bus to install?
A: Definitely the front shell. There's a lot of obstacles, a lot of things to work around and I like a challenge. So it's fun for me.
Q: What was the hardest thing for you to learn when you first started?
A: Fixing mistakes. That was hard to learn was you know how to be able to correct yourself and you know, plan for stuff and then fix if something goes wrong. Again, factoring into learning how to read the vinyl, if I have to pick something up and fix a mistake, what can I do to make it work and still have them look good and be of quality at the end of the install.
 Q: What is your favorite tool?
A: My favorite tool is the micro squeegee. Those little black micro squeegees that we have, that's my favorite one. It's perfect for everything. It gets into all kinds of corners and crevices and tight spots that we usually have to fight with. It's a perfect tool.
Q: So what was your favorite contract to work on?
A: My favorite contract to work on was the Montgomery County Flash bus. Yeah, just because of the colors and the design of it. It was really, really interesting and it was probably the first big challenge that we had here being a fully wrapped bus with window perf and all. 
Come back and join us when we talk to Amy on our next installment of Meet the Installers!